Here's the newspaper article!
http://www.nzherald.co.nz/wairarapa-times-age/news/article.cfm?c_id=1503414&objectid=11380201
Doors opened for sisters' message
By Erin Kavanagh-Hall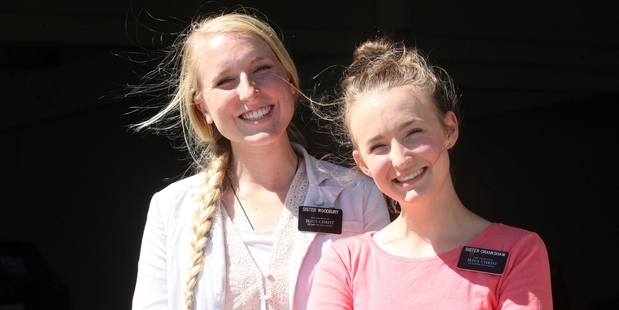 In popular culture, religious missionaries are used to having doors slammed in their faces.
But two members of the Mormon faith say their evangelistic experiences in Wairarapa have been just the opposite - and people have been open to their message of "light and love".
Sister Woodbury, from the US, and South African Sister Crankshaw belong to the Church of Jesus Christ of the Latter Day Saints - also known as the Mormon Church - and have been working as missionaries in New Zealand for the past 18 months.
Their work involves sharing "the Gospel of Jesus Christ", either in the streets or visiting homes, and inviting people to attend church.
The sisters, who have been based in Masterton for the past four months, say rather than shying away from the subject of religion, most people have been happy to chat.
"Door knocking does actually work," said Ms Crankshaw, originally from Johannesburg.
"We've generally had a positive response - people have stood on their doorsteps and asked us all kinds of questions.
"They don't always accept our message, but they've shown us real courtesy."
"We do get people who shut doors or walk away - but it's so rewarding when conversations happen," said Ms Woodbury.
The women applied to do mission work through their respective churches, where their leaders prayed for "a revelation" of where they would serve.
When New Zealand was revealed, they were "excited" - thanks to their love of Lord of the Rings and rugby. They have served in Hastings, Porirua, Christchurch and Westport - doing evangelism and community service, such as gardening and volunteering with Riding for the Disabled.
Ms Woodbury says she has particularly enjoyed the New Zealand scenery, learning about Maori culture, and the laid-back, "family oriented" feel of Wairarapa. Ms Crankshaw says she has grown from her Kiwi experience - and has learned to ride a bicycle in formal attire as a bonus.
"We usually bike, as it's a good way to interact with the community.
"It's not safe to bike in South Africa, so this was the first time I've ridden from A to B.
"Biking in skirts has been interesting - but it's got easier."